Pasta
Pasta dishes are delicious and easy to fix. Pasta recipes include a variety of dishes from pasta salad to spaghetti to lasagna.
In this section you'll find some recipes for Cincinnati Chili and homemade noodles. There are also some tips for cooking noodles and storing your leftover pasta.
Tips, Tricks, and Answers
The following articles are available for the 'Pasta' topic. Click the article''s title (shown in bold) to see the associated article.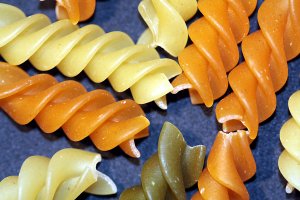 Chicken and Spinach Penne Pasta
Are you looking for a new twist to serve for your next Italian feast? If so then you need to try this fantastic recipe for chicken and spinach penne pasta. Learn how to combine the classic tastes of chicken and spinach in a new and mouthwatering combination with the help of this great recipe.
Cincinnati Chili
If you've ever visited a chili parlor and ordered a phony coney and a 4-way, then you're certainly in the greater Cincinnati, Ohio, area. This recipe for Cincinnati-style chili is the closest I've ever come to making a replication of the famous Camp Washington Chili, which I consider the best chili in the area. And if you haven't already guessed by now, I live in Cincinnati.
Comforting Macaroni and Cheese
Nothing is more comforting than a nice pan of baked macaroni and cheese. It is the perfect side dish to almost any entrée.
Delicious Spaghetti Sauce
You can get spaghetti just about anywhere, but nothing is quite so good as homemade spaghetti. Here's a recipe for homemade spaghetti sauce that will make you never want to go back to spaghetti from a jar.
Easy Chicken Apple Pasta Salad
Are you looking for an easy meal, or an even easier side dish, that you can make for your next dinner? If so then you will love this easy chicken apple pasta salad recipe. Easy to make, and fun to eat, this recipe will long be a favored addition to your collection.
Homemade Noodles
You have just made some homemade soup and now you would like to make the noodles to go with it. Here is an easy recipe that has been used for generations. Homemade noodles can add more flavor and texture to your homemade soup.
Pasta Salad
Pasta salad is the perfect summer food, providing a fresh taste on a hot summer night. Need to take some food to the next family outing? This salad will have them coming back for more of that great fresh pasta taste.
Pasta Storage
Pasta is a staple item of many diets throughout the world. Not only that, it is an important ingredient for many of the most wonderful dishes that you could ever enjoy. Unfortunately though, this item needs to be stored properly to be of any use. Here are some methods of pasta storage that should make the task a bit easier.
Spaghetti Pie
Italian food is always a family favorite. This recipe adds a twist to traditional spaghetti and meatballs.
Spectacular Spaghetti
If you have ever had spaghetti on your menu, then you know how difficult it can be to make some truly spectacular spaghetti. The key to making some fantastic pasta may surprise you, but it is something that everyone can do. All it takes is the proper tools, and a little effort on your part.
Storing and Cooking Pasta
Are you intimidated by the thought of preparing pasta? With just a little knowledge you can cook pasta like a professional. No sticking, bleaching, or boiling over—you can do it right!
Storing Homemade Noodles
Nothing can set off a soup or pasta dish quite like homemade noodles. Considering how much work can go into making the noodles, it only stands to reason that a smart cook will make more than is needed and store what isn't used. Only one question though: How to store those homemade noodles? Well, here's the answer.
Storing Homemade Pasta
Chances are pretty good that if you have some homemade pasta that you won't be using it all at the same time. That leaves you with the question of what to do with the leftovers. Luckily, storing homemade pasta isn't all that difficult.
Stuffed Manicotti
Have you ever had stuffed manicotti before? Chances are, if you have ever eaten at a decent Italian restaurant then you have. Here is a great recipe that you can use to make some fantastic stuffed manicotti at home, for a fraction of what it would cost you at a restaurant.