Baking
Preparing delicious meals can be rewarding, but baking desserts and other yummy treats is equally satisfying and easy to do.
You'll find a large variety of information in this section of tips about baking. There are recipes and ideas to help you bake the perfect treat. There is also an article about how to substitute ingredients for those times when you start making a dish and realize you are out of something essential.
Tips, Tricks, and Answers
The following articles are available for the 'Baking' topic. Click the article''s title (shown in bold) to see the associated article.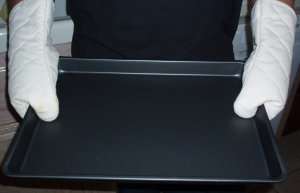 Active Yeast vs. Compressed Yeast
As anyone who has done even a little bit of baking can tell you, one of the most important ingredients in baking is the yeast. In baking, yeast is typically utilized in one of two ways, either active or compressed. Here is a little bit more information about these two different types of yeast, and what they can do.
Alternatives to Common Baking Ingredients
Are you out of eggs? Find out what you can use instead of ingredients you don't have on hand.
Baked Apple Donuts
In the morning, nothing is quite so good as muffins for breakfast. Here is a great muffin recipe that will make your breakfast a hit!
Baking Dish Conversions
Chances are pretty good that somewhere along the lines you have come across a recipe that says to use a baking dish that is measured in cups, rather than in inches. Unless you have done these kinds of baking dish conversions before, it can be a little confusing. Here is an easy to use guide that can help ensure you get the right baking dish for your needs.
Baking Pastry
People buy ready-made frozen pastry not only because it is quicker but also because it asks for specific skills. To bake a successful pastry, you need to develop the skill and be able to work fast and accurately.
Baking Sets
While it is great that there are all kinds of baking sets out there to chose from, it can also be a major problem trying to figure out which one to get. Before you go out and choose the most inexpensive one that you can find, simply because it is affordable, it might be a good idea to learn a little bit more about your options.
Banana Chip Bars
If you're looking for an easy and delicious dessert bar, then banana chip bars are the way to go. They are simple, different, and delicious!
Easy Pastry Baking
Who doesn't love pastries? After all they are absolutely delicious, they just have one problem though. That problem is that pastries can be a tad difficult to make. Here are some great ideas for easy pastry baking that you can use the next time you are in the mood for a great snack.