Desserts
Traditionally, desserts provide an end to a meal and because of their sweet nature, leave you feeling refreshed. Once reserved only for very special occasions or for the rich, desserts are common today with a large variety of recipes to choose from.
In this section of tips, you'll find ideas for creating your own tasty treats. Cinnamon rolls and chocolate mousse are a sampling of the dessert recipes that are ready for you to try.
Tips, Tricks, and Answers
The following articles are available for the 'Desserts' topic. Click the article''s title (shown in bold) to see the associated article.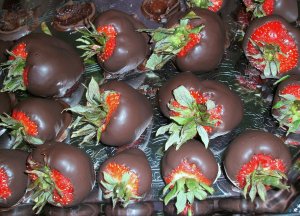 Apple Crisp
It can honestly be said that desert is one of the best courses of any meal. Why not look for a way to top off your next meal, or simply to enjoy a great treat, with a little apple crisp? This fantastic recipe is not only easy to use, but tastes great as well.
Apricot, White Chocolate, and Walnut Scones
Scones are great for mixing up your traditional dessert. They are delicious and easy to make. Here is a great recipe that will give you the variety you have been looking for.
Banana Split Brownie Pizza
What could be better than a chocolate brownie topped with banana split ingredients? This brownie pizza will be a hit with your family and friends.
Berries 'N Stars
Berries 'N Stars is a beautiful dessert that looks like you worked hard to create a masterpiece, but it is simple to construct. It will be a crowd pleaser wherever you take it.
Building Gingerbread Houses
If time is limited, and if you're on a budget, consider making your gingerbread house using graham crackers. Use a can of white icing, stiffened with confectioner's sugar, to make the mortar for your graham cracker walls and roof, and then as glue for the candy decorations.
Caramel Corn
If you're not sure about what you should make for dinner, then here is an idea. Throw out healthy for a night and make some caramel corn for all to enjoy. Or, whip up a batch you can enjoy for movie night.
Cheese and Pear Salad
Are you looking for a great tasting, light dessert? Maybe you are looking for a unique salad that you can serve at your next meal. Whatever the case, you can find the answer with this great tasting cheese and pear salad recipe.
Chocolate Mousse
If you are looking for a truly elegant dessert, and happen to love chocolate, than can you really do any better than chocolate mousse? It is a surprisingly easy thing to make, and can be a great way to impress friends and family. Here's how you make it.
Cranberry-Brie Tarts
Have you ever noticed how well the taste of cheese and fruit go together? It almost seems like they were specifically made to compliment one another. Well, why not use that unique strength to make a truly fantastic dessert? Here is a great recipe for some cranberry-brie tarts that plays to all the strengths, and leaves you wanting more.
Easy Peanut Brittle
Peanut brittle has long been a favorite treat around the holiday season, but has usually been considered too difficult to make it year round. Try this easy peanut brittle recipe that not only tastes great, but is remarkably easy to make. Your family will not only love it, but also ask you to make it all year round.
Homemade Cinnamon Rolls
Cinnamon rolls are desserts that will never go out of style. If you can make homemade cinnamon rolls then you will always be set to go for a snowy day!
Homemade Ice Cream
For those who love ice cream, nothing can be better than making your own. By making homemade ice cream you are able to create flavors that may not be readily available on the market. In addition, you can also potentially save some money in the process.
Lazy Day Peach Cobbler
Cobblers are tasty and easy to make. This recipe makes them even easier.
Low Fat Desserts
Let's face it. Even when we're watching our weight and trying to eat healthy, there are times that we want a dessert. After all, a diet will fail if we consistently deny ourselves a treat every now and then. It's when we feel deprived that we give up on our diets. Yet, there are fat-free and low fat dessert options available. And there are even some low fat desserts that taste better than full-fat desserts.
Luscious Lemon Bars
Lemon bars are a wonderfully easy, and tasty, desert that can be appropriate for any occasion. Try this recipe next time you are in the mood for a citrus dessert.
Making Your Own Peanut Butter Cups
One of the best selling candy bars on the market right now is, without a doubt, Reese's Peanut Butter Cups. Considering how popular this candy is, why not take a stab at making your own? Luckily making your own peanut butter cups isn't all that difficult a task.
Orange Poppy Seed Scones
Scones are great dessert that makes for a wonderful change of pace. They are easy to make, and people will be talking about them for weeks.
Perfect Popovers
If you grew up eating popovers or if you've never had them before, it doesn't matter when it comes to this recipe. Make these perfect popovers and love them!
Ricotta Creme
Carb-free desserts that are satisfying are difficult to find. This South Beach recipe is rich and decadent.
Tasty Low-Calorie Desserts
Just because you decide to eat a low calorie diet doesn't mean you can't have desserts. Here are a few ways to spice up your diet with sweets without adding too many calories.