Poultry
Poultry dishes, especially with chicken, are common and easy to prepare. Chicken is easy to buy ahead and freeze for later use. Cooking chicken is also easy and there are dozens of delicious recipes that use chicken.
The recipes in this section of tips include some quick and easy ways to put a delicious meal on your table. Chicken casserole, chicken salad, and barbecue chicken are just a sample of what you'll find here.
Tips, Tricks, and Answers
The following articles are available for the 'Poultry' topic. Click the article''s title (shown in bold) to see the associated article.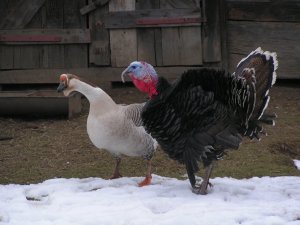 Barbecue Chicken
Everyone has their own favorite type of barbecue chicken. The only problem is that after a while it seems like barbecued chicken just tastes the same. That is, until now. Here is a fantastic recipe for barbecued chicken that will absolutely blow your friends and family away.
Brining a Turkey
Are you interested in having a particularly juicy and tasty turkey? If so, then you may want to consider brining it. Brining a turkey is remarkably easy, and only requires a few items that you already have around the house. Here's what you do.
Chicken and Spinach Penne Pasta
Are you looking for a new twist to serve for your next Italian feast? If so then you need to try this fantastic recipe for chicken and spinach penne pasta. Learn how to combine the classic tastes of chicken and spinach in a new and mouthwatering combination with the help of this great recipe.
Chicken Cordon Bleu from Scratch
Chicken cordon bleu is, without doubt, a truly fantastic meal. What is even better, is if it has been made from scratch. Here is how you can make chicken cordon bleu from scratch, and be well on your way to creating a meal your family will love.
Chicken Marsala
Chicken Marsala is one of the most favored and beloved of all recipes out there, and is one that is extremely popular at restaurants around the country. Instead of going out to eat, learn how you can make your own at home. It's not particularly difficult, and will taste absolutely fantastic.
Chicken Salad
Chicken salad is one of the easiest salads to make, and beloved of light sandwiches around. Not only is it exceptionally healthy, it is also easy to modify to your particular tastes. However, if you have never made it before, here is a simple recipe that is easy to follow that has a great taste.
Choosing a Perfect Turkey
Choosing a perfect turkey is key to being able to have a great Thanksgiving get together, or simply having a great tasting dinner. Believe it or not, there is more to picking a turkey than going to your local grocery store and picking up a random bird.
Cooking a Turkey
It seems like there are hundreds of different recipes for cooking turkeys, but the basics of cooking a turkey are all the same. It is important to prepare and cook the turkey safely.
Cooking Thanksgiving Turkey
Thanksgiving is known for its feast of food. The main dish, of course, being turkey, your worst nightmare would be having it not turn out. Fear no more; here is a fool-proof plan for getting the most delicious and moist turkey you could over bake.
Cornbread Stuffing
When having poultry for dinner, is there really a better side dish to have than stuffing? Cornbread stuffing can be one of the greatest complimentary dishes to a poultry dinner, if it is done properly. Here is a recipe that will help raise your cooking skills to legendary proportions (at least among your family).
Deep Frying a Turkey
It is becoming more and more popular for people to deep fry turkeys rather than bake them in the traditional sense. If you would love to see just how succulent you can get your next turkey, try deep frying it. Deep frying a turkey is surprisingly easy. Here's how.
Delicious Crock Pot Cream Cheese Chicken
Crock pots cooking is a great way to make easy less time consuming meals.
Devilish Baked Chicken
Chicken is always a great crowd pleaser, but over time the same old recipes can be a little boring. If you are looking for a great twist on some baked chicken, and one that tastes great as well, then look no further! Here is a devilish little twist on a classic lunch or dinner entree.
Easy Chicken and Broccoli Casserole
Want a great main dish for your next family meal? Try mixing chicken and broccoli in an easy-to-bake casserole. You'll find the great-tasting recipe here.
Easy Chicken and Rice Casserole
Chicken casserole can be a staple in any cook's kitchen. It is a great way to make a nourishing meal when time is short or the crowd is large. This recipe is for a great chicken and rice casserole.
Easy Chicken Apple Pasta Salad
Are you looking for an easy meal, or an even easier side dish, that you can make for your next dinner? If so then you will love this easy chicken apple pasta salad recipe. Easy to make, and fun to eat, this recipe will long be a favored addition to your collection.
Easy Chicken Casserole
Chicken casserole is one of those staple family recipes. Because of its applicability in many social situations, you want to have the best and easiest recipes.
Garlic Broiled Chicken
Nothing really seems to bring out the flavor in chicken quite the same way that garlic does. Well, if you are in the mood for a fantastic chicken dish, then you need to try out this recipe for some garlic-broiled chicken. You will find that it is exceptionally easy to make.
Handling Fresh and Frozen Turkeys
Is there really a difference between a fresh and frozen turkey? Most people believe that there is. No matter which turkey you choose it is important to remember that the way you handle the turkey can make a difference between having a healthy turkey dinner or not.
Orange Chicken
If you, and your family, are in the mood for some fine Asian cuisine, but don't want to have the same old dish again, then you really should try this orange chicken recipe. Not only does it taste great, it is both easy to make, and something that your entire family will enjoy.
Ostrich Meat
Ostrich meat is surprisingly low fat and healthy. Unlike most bird meat, it is a red meat and tastes surprisingly like beef. Who wouldn't want to eat a meat that tastes like beef but has almost half as much fat?
Roasting Meat Correctly
Sometimes recipes have the nasty habit of saying "Cook your meat for this long, and serve." But what do you do if you like your meat medium, or even rare? Well, if you would like to learn about roasting meat correctly, simply follow these guidelines.
Spinach and Cheese Stuffed Chicken
It's that time of the week again, your turn to come up with a meal for dinner, but you have no idea what to make. Well, if you happen to have a little spinach, some cheese, and a little chicken then you are in luck. Here is a fantastic recipe for spinach and cheese stuffed chicken that you will absolutely love.
Swiss Chicken Cutlets
Having some unexpected guests for dinner to night? Why not make some Swiss chicken cutlets? You can have a delicious meal that looks fabulous and tastes delicious in less than thirty minutes.
Tasty Chicken Salad
When it comes time to feed a crowd (small or large) a light lunch, a chicken salad seems to do the trick. This chicken salad is amazingly simply to make with a great taste.
Tender Fried Chicken
Fried chicken is always good and it's even better if it's homemade. Learn how to make tasty, tender fried chicken and impress your friends and family!
Tequila Lime Chicken
For some reason, when the weather gets warm and the sky turns blue, the barbecue grills begin to come out. Try this great tasting recipe for some fantastic tasting tequila lime chicken the next time you are in the mood for grilling. You will be amazed at how easy it is to make.
Turkey Casserole
You need a fast meal with a lot of taste. You have a lot of leftovers and would like to use them up instead of throwing them out. This is a great recipe that uses a lot of the leftovers without having the leftover blues.
Turkey Pot Pie
Do all the turkey leftovers have you wondering what to do? You are probably looking for a fast meal with little time required for preparation or cooking. A stuffing turkey pot pie gives a new flare to an old recipe. You will want to try this wonderful turkey pot pie on a cold winter night.
Ways to Spice Up Chicken
Tired of the same old chicken? Teach that old chicken some new tricks! Get chicken cooking tips here.