Equipment
Like it or not, cooking requires the use of some types of equipment. Appliances, pots and pans, and utensils are only a portion of what you need to make your cooking experience pleasant.
This section of tips includes ideas for remodeling your kitchen, choosing the right equipment for catering, creating the right lighting scheme for your needs. Regardless of your circumstances, you'll find the information you need to make your job as a cook easier.
Tips, Tricks, and Answers
The following articles are available for the 'Equipment' topic. Click the article''s title (shown in bold) to see the associated article.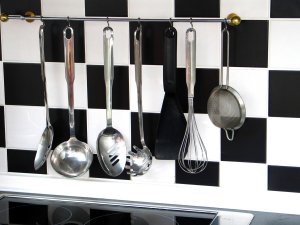 Bar Equipment
Building your own home bar? Have you decided on the equipment you will need? Here are a few things to consider before buying anything.
Choosing Commercial Catering Equipment
Commercial catering equipment can be a huge help if you plan on throwing a lot of parties, and a vital necessity when you are planning your own catering business. No matter why you may need commercial catering equipment, choosing commercial catering equipment can be an ordeal. That's where we come in.
Choosing Shelving
Things can pile up in your home and cause clutter. Use shelves to help organize items and create a neat appearance.
Commercial Cooking Equipment
Commercial kitchens need certain equipment to be successful. The specific items you will require in your kitchen depend on the kind of food service you provide.
Kitchen Lighting
One of the most important aspects of any room, especially a kitchen, is lighting. It can make or break a room. By making sure you have the proper amount of ambient, task and accent lighting, you can give your kitchen a complete makeover.
Kitchen Remodeling
Remodeling your kitchen is a huge project, and one that should never be undertaken without some serious consideration. Do you know which questions you need to ask your self when trying to decide whether to actually remodel your kitchen? Without knowing what needs to be considered, you can quickly find yourself with a kitchen not from your dream, but rather from your nightmares.
Kitchen Utensil Rack
Many kitchens could use a little extra organization. If you are tired of utensils crowding your drawers and counters, consider using a kitchen utensil rack.
Reducing Grease Spatter
The leading cause of most home fires is grease spatter and buildup in the kitchen. With a little forethought and care, you will be able to both cook and keep your home safe from kitchen fires. Here are a few of the best ways that you can cook while reducing grease spatter.
Used Catering Equipment
To help your catering business save money, you may want to consider purchasing used equipment. There are many second hand tools available for a great price.
Using a Meat Thermometer
Having a meat thermometer in the kitchen of your home, while a great start, does absolutely nothing if you aren't using it. Luckily, using a meat thermometer isn't all that difficult. Just follow these simple instructions to do it properly.
Wine Storage
Wanting to be a wine buff but not sure where or how to store it all? Storing wine can be simple. By following a few rules, you'll be able to pull out wine that has aged and tastes great.