Chocolate
One sweet that most people can agree on is chocolate. It comes in a variety of shapes, textures, and in different foods. Whether you want to make a chocolate cake, chocolate cookies, or anything chocolate, you will have a treat that entices everyone.
Giving chocolate gifts, making a great chocolate mousse, and brewing a delicious hot chocolate are all tips you'll find in this section.
Tips, Tricks, and Answers
The following articles are available for the 'Chocolate' topic. Click the article''s title (shown in bold) to see the associated article.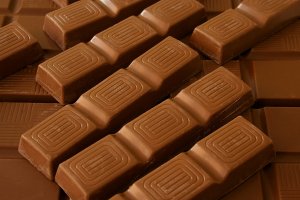 Chocolate Covered Nuts
Do you like the richness of chocolate and the crunch of nuts? Try combining the two and enjoy chocolate covered nuts as a sweet and delicious snack.
Chocolate Fruit
Pairing fruit with chocolate is a great way to create a rich and decadent dessert. You can buy (or make) chocolate-covered fruit using different varieties of fruit and chocolate for a delicious treat.
Chocolate Gifts
Looking for that perfect give to give that special someone? You can't go wrong with chocolate. There are so many ways to use chocolate in gift giving from making fudge to making chocolate molds and everything in between.
Chocolate Mousse
If you are looking for a truly elegant dessert, and happen to love chocolate, than can you really do any better than chocolate mousse? It is a surprisingly easy thing to make, and can be a great way to impress friends and family. Here's how you make it.
Chocolate Roses
Chocolate roses bring together two of the most popular gift items: chocolate and flowers. For a unique and delicious gift, present your loved one with a bouquet of chocolate roses.
Christmas Chocolates
Short on cash this year for Christmas presents? No fear, use this recipe to make some Christmas chocolates, it'll put smiles on your friends faces and keep cash in your pocket.
Double Chocolate Chip Cookies
Let's face it, chocolate chip cookies are perhaps one of the most popular types of cookies in existence. This also means that if regular chocolate chip cookies are good, then double chocolate chip cookies are great! Learn how you can make your own fantastic double chocolate chip cookies with the help of this great recipe.
Gourmet Chocolate Gifts
If you are looking for a way to impress your significant other, or even make a good impression on your coworkers, then what better gift is there than chocolate? Gourmet chocolate gifts are wonderful for just about all occasions, but they have one slight draw back—the cost. If you are looking for a way to get more of a bang for your buck, then this is an article you need to read.
Homemade Fudge
Miss the taste of good old homemade fudge, but afraid that it will be too hard to make? This recipe is easy to follow and has a great taste.
Hot Chocolate
A fun homemade hot chocolate mix also known as "Mexican hot chocolate." This recipe has that special ingredient that will set it apart from all the others. Caution: Drinking this hot chocolate may cause a desire for wanting more than just one cup of this delicious brew.
Luxury Chocolates
One way to experience pure luxury is by taking a bite of a luxury chocolate bar. These chocolates appeal to almost everyone, and although they cost more than a regular candy bar they come in price ranges that can fit any budget.
Melting Chocolate
Do you have a sweet tooth? Melt some chocolate for strawberries or homemade truffles! Learn how to do it right here.
The Magic of the Best Hot Cocoa Combination
Some nights, you just have a hard time having motivation, and you may even have a breakdown. Here is a great hot cocoa combination that will give you the strength you need to finish whatever you need to.