Salads
There are several types of salads but most contain a variety of fruits and vegetables and are a great way to get in a couple of servings of these nutritious foods. The traditional green salad is delicious and eating a fruit salad is a great way to cool off on a hot day.
This section of tips has some salad recipes for potato salad and a fresh berry and cheese salad. There is also information here about the different parts of salads such as the different greens, angelica, and croutons.
Tips, Tricks, and Answers
The following articles are available for the 'Salads' topic. Click the article''s title (shown in bold) to see the associated article.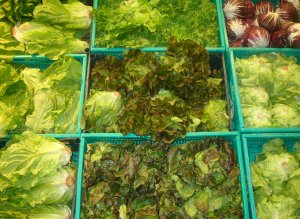 Authentic German Potato Salad
Potato salad has long been considered a staple on the barbecue and picnic tables here in United States, but it can be nice to have something a little different every once in a while. Try this recipe for authentic German potato salad for something different, yet wonderfully delicious.
BLT Cole Slaw
Who doesn't love a good coleslaw with their barbecue? For some reason this classic salad is able to perfectly compliment almost any barbecue dish. However, even the best tasting coleslaw can become boring after a while, so try this new recipe for a BLT coleslaw.
Breadcrumbs, Croutons, and Stuffing
Don't know what to do with that crusty bread? Dissatisfied with store-bought stuffing? Want to make your own breadcrumbs? Get the ideas here.
Cheese and Pear Salad
Are you looking for a great tasting, light dessert? Maybe you are looking for a unique salad that you can serve at your next meal. Whatever the case, you can find the answer with this great tasting cheese and pear salad recipe.
Chicken Salad
Chicken salad is one of the easiest salads to make, and beloved of light sandwiches around. Not only is it exceptionally healthy, it is also easy to modify to your particular tastes. However, if you have never made it before, here is a simple recipe that is easy to follow that has a great taste.
Cold Pasta Salad
During the hot summer and early autumn months, no one really wants to fire up the oven or stove. One possible course of action is by making a cold pasta salad. Just remember that after you have made the salad that you keep it properly cooled.
Easy Chicken Apple Pasta Salad
Are you looking for an easy meal, or an even easier side dish, that you can make for your next dinner? If so then you will love this easy chicken apple pasta salad recipe. Easy to make, and fun to eat, this recipe will long be a favored addition to your collection.
Fresh Berry and Cheese Salad
Are you looking for a great tasting, yet unique salad that you can add to just about any meal? If so, then this is the salad for you. This combination of berries, greens, and cheese is one that you won't soon forget, and will love to have again and again.
Green Salads
Making a healthy green salad is not hard when you know the different types of greens. Read on and learn more about the different types of greens you can use to enliven your salad.
Homemade Potato Salad
Potato salad is a perennial favorite of cookouts, Easter Sunday dinners, family gatherings, and other special events. Homemade potato salad can set off a picnic or family gathering perfectly. Here is a fantastic recipe that you need to try the next time you have a barbecue, family dinner or some other special day that you would like to make just a little special.
Make Your Own Salad Dressing
If you are looking to truly put your own twist on a salad, then what better way to do that than by making your own salad dressing? Making your own salad dressing is surprisingly easy, as long as you are willing to take a few chances.
Pasta Salad
Pasta salad is the perfect summer food, providing a fresh taste on a hot summer night. Need to take some food to the next family outing? This salad will have them coming back for more of that great fresh pasta taste.
Ramen Noodle Salad
Oriental themed salads can often be a tad expensive, at least that is the case if you aren't willing to use a bit of imagination. One example of this can be found in this ramen noodle salad recipe. Not only will it taste great, it is easy to make and surprisingly easy on the wallet.
Seven Layer Salad
Seven-layer salad is a great dish to have for any meal, whether it is a small one-person dinner, or a large gathering. Not only does it taste absolutely great, it is also fairly light and easy to make. Here is a seven-layer salad recipe that you, and those you share it with, will absolutely love.
Summer Salads
Salads can be a great way to help beat the summer heat, but what type of salads should you have? Summer salads can be made out of just about anything. Here are some ideas that you may want to consider the next time that you are in the mood for a yummy salad.
Understanding Angelica
Angelica is an herb that has found many practical uses whether it is used in the kitchen for cooking or baking. Want to find out all the wonderful uses this herb can be used for? Look no further; here it is.