Outdoor Cooking
Cooking on an outdoor grill is a great way to add some variety to your meals and takes less effort than you might think. The grill also gives your food a different flavor that will leave you hungering for more. Whether you are craving a plate of grilled vegetables or steak and potatoes, cooking on the grill is a great way to cook great-tasting food and enjoy the summertime weather.
This section of tips includes different recipes for cooking your favorite meat and how to add that delicious barbecue sauce to chicken or ribs. You'll also find general information about grilling such as using your grill safely and cleaning your grill so that your food is always perfect.
Tips, Tricks, and Answers
The following articles are available for the 'Outdoor Cooking' topic. Click the article''s title (shown in bold) to see the associated article.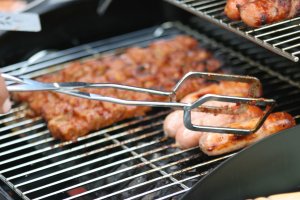 Barbecue Accessories
Depending on where you live in the world, barbecuing is known by many different names. Whether you call it a braai like they do in South Africa, or a barbec in Romania, you are going to need a few things to pull of a truly spectacular barbecue. When planning your next barbecue, make sure that you keep these barbecue accessories in mind.
Barbecue Chicken
Everyone has their own favorite type of barbecue chicken. The only problem is that after a while it seems like barbecued chicken just tastes the same. That is, until now. Here is a fantastic recipe for barbecued chicken that will absolutely blow your friends and family away.
Barbecue Dry Rub Recipe
When the time comes around to begin barbecuing, one of the more common complaints that people have is how messy barbecue sauce can be. This barbecuing season try experimenting a little and save yourself some time cleaning your fingers after eating by making a dry rub barbecue. Here's a great recipe that you will just love.
Barbecue Recipes
You don't have to serve the same old boring burgers and dogs at your barbecue. Mix up a few simple ingredients and get savory results.
Barbecue Safety
Where should you put your barbecue? How can you make sure you're safe while grilling? Get some barbecue safety tips before your next cook out.
Barbequed Brisket
For a Sunday night when you still want to relax, try making some barbequed brisket. It doesn't take too much time for you—it just takes a lot of time to cook on its own. Let the brisket cook itself and you can kick back and relax.
Becoming a Barbecue Pitmaster
Cooking great meals with your barbeque takes some practice. Learn how to hone your talents and become a pitmaster!
Beef Brisket Recipe
Beef brisket is an inexpensive and delicious meat. Try cooking it over a long time to get the meat to become tender.
Cleaning Your Grill
It is important that you take care of your grill and keep it clean and well-maintained. Regularly wiping, scrubbing and deep-cleaning your grill are necessary for the best possible results when grilling.
Cooking for Large Groups
Cooking for large groups, such as at a barbecue, can be a tricky situation if you have never done it before. For example, do you know how much hamburger you would need for 50 servings? How about cheese, hot dogs, or the condiments? Well, with this handy guide you will soon know the answer.
Deep Frying a Turkey
It is becoming more and more popular for people to deep fry turkeys rather than bake them in the traditional sense. If you would love to see just how succulent you can get your next turkey, try deep frying it. Deep frying a turkey is surprisingly easy. Here's how.
Doing Summer Barbecues Right
Have you ever noticed how when the temperature rises, the barbecue's come out? While everyone may think that they know how to do a barbecue, make sure that you know the tricks to doing summer barbecues right. They are not that difficult to learn, and can very easily help you to have a party to remember.
Easy Country Ribs
Perhaps one of the best ways to eat pork ribs in the world is when they are prepared country style. This means that the meat is so tender that it is about dripping from the bone, and that they are also slathered in some fantastic tasting barbeque sauce. Well if you are in the mood for some ribs, then you simply have to have to use this recipe for easy country ribs.
Gorgonzola Steak
If you love meat, then chances are you love a good steak every once in a while. But even with the best of cooks, steak can get boring after time. For a great alternative method, try this wonderful gorgonzola steak recipe.
Grandma's Barbeque Sauce
Barbeques are a great chance to kick back and enjoy summer. The only thing that could make them better is homemade barbeque sauce.
Great Steaks
Is there really anything better than going out for a great steak dinner? Maybe it is grilling your very own great steaks. Considering that going out for a steak dinner can cost a minimum of $35.00 for two people (if you're lucky), why not make your own for about half that? Here's how.
Grill the Perfect Burger
When the weather turns nice and we begin to think about turning on that barbecue, there is one skill that becomes an absolute necessity—grilling the perfect burger. Whether you can or cannot grill a burger is often the measure of your grilling skills. If you don't know how to grill the perfect burger or you would like to learn a few ways to improve your current skills, take a look here.
Grilling Meat Outdoors
Do you love a freshly grilled steak or hamburger? Check out some advice on grilling meat before you light the barbecue this weekend.
Hosting a Barbecue
Summer time has long been the traditional time for hosting a barbecue, but it doesn't have to be the only time. In order to host a successful barbecue you will need to do a little planning. Here are some guidelines that you can use to ensure your barbecue is as enjoyable as possible.
Lighting Charcoal Barbecues
Grill tastier food on your charcoal barbecue. Reduce the mess while you're grilling. It's easier than you think!
Making Your Own Barbecue Sauce
Barbecue sauce is a great way to add a little extra zest to dinner, but what do you do if you don't have the money to buy some of the premade stuff? Making your own barbecue sauce isn't only easy; it can actually save you money in the long run. Learn how to make your own with our help.
Pepper Jack Stuffed Burgers
Who doesn't love a good cheeseburger? Juicy, grilled to perfection, and always welcome, cheeseburgers have long held a position of honor in the pantheon of summer foods. Here is a great recipe for some pepper jack stuffed burgers, which puts a wonderfully spicy spin on the classic cheese burger.
Perfect Pulled Pork
Pulled pork can be a wonderful treat when you are in the mood for some great barbecue. However, to really achieve some "perfect" pulled pork it will take a little bit of time. Here is a great recipe that you can use when cooking some pulled pork in your crockpot.
Planning a Picnic
When the weather is right, there is nothing better than a picnic. However, do you know how to go about planning a picnic that is truly memorable? It's not that hard to do, especially if you follow these guidelines.
Preparing Your Grill for the Season
When the snow finally begins to melt from the ground, it's time to start thinking of barbecuing. It comes in handy, though, to have a working grill though when you want to barbecue. Preparing your grill for the season doesn't need to be something that you look forward to with dread. Here's how you can get that barbecue grill clean and ready to go with only a little effort.
Something Different on the Barbecue
Ready for something different at your barbecue? You don't have to do much to make your next grilling a memorable one.
Tequila Lime Chicken
For some reason, when the weather gets warm and the sky turns blue, the barbecue grills begin to come out. Try this great tasting recipe for some fantastic tasting tequila lime chicken the next time you are in the mood for grilling. You will be amazed at how easy it is to make.
Tinfoil Dinner
When it comes to the average overnight camping trip, a perennial favorite has got to be the tinfoil dinner. If you have had them before, then you know exactly how wonderful they can taste. If you have never had them before, then sadly you have no idea of what you are missing. Follow these directions to try your hand at these wonderfully easy dinners.
Vegetable Grilling
Vegetables can add a wonderful, nutritious, and tasteful element to any dining experience. It's no different when you are barbecuing in your backyard. Vegetable grilling can present a unique and often difficult cooking experience. Here is how you can perfectly grill vegetable each time you are in the mood.