Fruit
Fresh fruit makes a great snack or side dish that is not only delicious but nutritious and full of essential vitamins. There are a number of ways to enjoy fruit. Using fruit in salads, cake, and a variety of fruit recipes are easy options to make the most of this natural treat.
The tips in this section will give you ideas about dealing with fresh fruit, using fruit in recipes, and how to create a great fruit basket. There is also a tip about preserving fruit for those times when you have more than you can eat before it goes bad.
Tips, Tricks, and Answers
The following articles are available for the 'Fruit' topic. Click the article''s title (shown in bold) to see the associated article.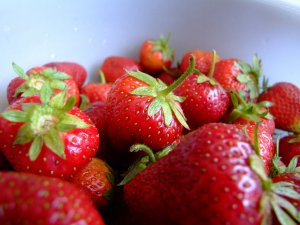 Cheese and Pear Salad
Are you looking for a great tasting, light dessert? Maybe you are looking for a unique salad that you can serve at your next meal. Whatever the case, you can find the answer with this great tasting cheese and pear salad recipe.
Chocolate Fruit
Pairing fruit with chocolate is a great way to create a rich and decadent dessert. You can buy (or make) chocolate-covered fruit using different varieties of fruit and chocolate for a delicious treat.
Cooking Pumpkin Seeds
Around autumn you carve pumpkins and you are always left with the seeds. What do you do with them? One way to deal with pumpkin seeds is to cook them, creating a tasty fall treat that all will enjoy!
Cranberry-Brie Tarts
Have you ever noticed how well the taste of cheese and fruit go together? It almost seems like they were specifically made to compliment one another. Well, why not use that unique strength to make a truly fantastic dessert? Here is a great recipe for some cranberry-brie tarts that plays to all the strengths, and leaves you wanting more.
Dealing with Fresh Fruit
Get some quick fixes and tips for your fresh fruit. Buy for one, serve more tasty berries, and keep things fresh longer.
Fruit Baskets
Fruit baskets are a wonderful, and relatively inexpensive, way to show your appreciation for someone in your life. While everyone knows that you can go out and purchase one, why endure the added expense of having someone make one for you, when you can make your own? Here's how.
Fruit in Recipes
What's the best way to keep fruit salad looking fresh? How does pineapple react with other ingredients? Don't mix another fruit recipe before you read these tips!
Homemade Cinnamon Cranberry Sauce
Freshly made cranberry sauce can be a wonderful addition to any meal, and doesn't need to be relegated to Thanksgiving meals only. If you are interested in an interesting twist on the traditional cranberry sauce, then you will absolutely love this recipe for some homemade cinnamon cranberry sauce.
Keeping Fruit Fresh Longer
Fresh fruit is a wonderful tasting thing, and if you are not careful, a short-lived thing. Keeping fruit fresh longer is the goal of anyone who happens to enjoy fruit. Keeping fruit fresh longer is fairly easy as long as you keep in mind a few simple things.
Making Apple Butter
Remember how wonderful apple butter tasted on a warm slice of toast? Or, if you have never had the pleasure of tasting the sweetness of homemade apple butter, why not make up some? It really isn't that hard to do and this recipe makes it even simpler.
Paying Extra for Organic Produce
Is organic produce really that different from regular produce? This is the question I try to answer for you so you can spend you money in the best way.
Preserving Fruit
The only thing that is better than store bought fruit preserves is making your own. If you have never had homemade fruit preserves before, then you are definitely missing a great treat. Here is a great method for preserving fruit yourself, and being able to save money by making your own preserves instead of purchasing some.
Working with Coconut
Coconut is a great reminder of tropical destinations and amazing vacations. Refresh your memory by choosing and cutting a perfect coconut.
Working with Pineapple
Pineapple is everyone's favorite tropical fruit. Learn to choose and cut your pineapple perfectly.