Sandwiches
You can prepare a quick meal by making sandwiches. It's easy to cover most of the food groups in one shot by adding some meat, cheese, lettuce, tomatoes, and anything else that sounds good. The sky is the limit when you create your personal sandwich.
The traditional sandwich can get boring. Fortunately, you'll find a tip in this section to pull your ordinary lunch out of a rut. There are also some great recipes for creating sub sandwiches and information about the history of cucumber sandwiches.
Tips, Tricks, and Answers
The following articles are available for the 'Sandwiches' topic. Click the article''s title (shown in bold) to see the associated article.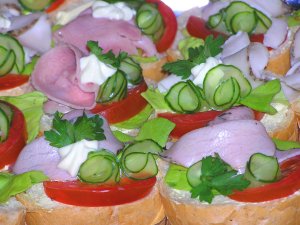 Bacon and Apple Sandwiches
Whether it is for a snack, or even a full meal, sandwiches can certainly hit the spot. If you are tired of the same old turkey and cheese, or peanut butter and jelly sandwiches then you really need to try recipe out. In less than twenty minutes you can have a fantastic tasting bacon and apple sandwich. All you need to do is follow these simple directions.
Cheesy Caramelized Onion Panini
If you are looking for a great new twist on the perennial favorite of a grilled cheese sandwich, then look no further. This easy to make, and a great tasting recipe that will help you spruce up this childhood favorite. It is called a cheesy caramelized onion Panini.
Cucumber Sandwiches
Cucumber sandwiches are not just for tea parties. I used to work with a man who brought cucumber sandwiches for lunch quite frequently. His sandwiches were not quite so delicate as tearoom fare. He did not cut the crusts from his bread, and he used the greater portion of cream cheese, with several layers of cucumbers. It just so happened that Don and his wife grew cucumbers every year in their garden, and he loved making sandwiches from them during the growing season.
Egg Salad Sandwiches
Are you looking for a great tasting, easy to make, snack that just about everyone would love to eat? If so, you really can't go wrong with egg salad sandwiches. All you need to do to make some really tasty sandwiches is follow this simple recipe.
Hoagies
OK, let's be serious for a minute here, who doesn't like sandwiches? If you are looking for a great alternative to your everyday normal sandwich, and one that you can have a lot of fun with, then why not try a hoagie? They're simple to make, and taste delicious. Here is a fantastic recipe that you will just love!
Making Perfect Grilled Cheese
When done right, a grilled cheese sandwich can arguably be one of the best comfort foods around. The trick though lies in making the perfect grilled cheese sandwich. Just follow this recipe to ensure that you get that perfect sandwich.
Something New for Sandwiches
Don't get bored with sandwiches. Shake up a usual meal with a bit of the extraordinary!
Sub Sandwiches
Whether for lunch or dinner, it seems like sub sandwiches are a great option. If you would like to have a great sub sandwich, but don't want to pay an arm and a leg, then you can't miss this great recipe. Try it the next time you are in the mood for a sub sandwich and you won't be disappointed.
Tasty Chicken Salad
When it comes time to feed a crowd (small or large) a light lunch, a chicken salad seems to do the trick. This chicken salad is amazingly simply to make with a great taste.