Soups
A good soup can be delicious and satisfying while providing some great nutrients to your body. Soups are an easy way to eat a number of different foods without cooking several different dishes.
Because there are so many different types of soup, this section of tips has a variety of soup recipes. Among the different samplings, you'll find instructions for making Irish stew, turkey noodle soup, and cheddar broccoli soup.
Tips, Tricks, and Answers
The following articles are available for the 'Soups' topic. Click the article''s title (shown in bold) to see the associated article.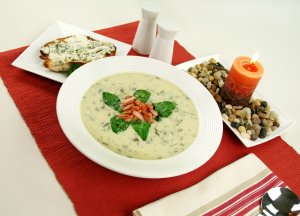 Cabbage Soup
Soup is a hearty and delicious meal that can be enjoyed for lunch or at dinner. For a wonderful mix of vegetables, try an easy to make cabbage soup.
Cheddar Broccoli Soup
Soups go perfect with just about any meal, and can actually be a great course to include for a romantic little dinner. Instead of always going with a simple can of soup that you can get at any store, why not make your own from scratch. It is remarkably easy as this recipe for cheddar broccoli soup shows.
Creamy Clam Chowder
Whether you are looking for a great tasting meal, or something to warm you up on a cold winter day, you can't really go wrong with clam chowder. One of the best tasting options available is to make your own by following this creamy clam chowder recipe. You will love it.
Creamy Potato Soup
Potato soup is a relatively easy, tasty, and heart warming meal that you can make and enjoy on particularly cool days. Follow this delicious creamy potato soup recipe to make a homemade dish that your family will just love.
Egg Drop Soup
Egg drop soup is perhaps one of the most beloved of all the Chinese style soups around. This long time favorite is also particularly easy to make. All you need to do is follow this simple recipe.
French Onion Soup
French onion soup has long been a favorite dish at restaurants around the world. If you are looking for a great way to impress family and friends at your next get together, then why not make some yourself. It's easy to do.
Hearty Chili
Cold weather is an excellent time to put on a pot of chili. The key to a good chili is allowing time for all of the spices to simmer.
Irish Stew
If you are looking for a great tasting stew that has all the flavor and charm of Ireland, then look no further. You will love how easy this recipe is to make, and how wonderful the results are. Regardless the reason, if you are looking for a great tasting stew then you need look no further.
Jambalaya
Cajun foods are flavor packed and easy to make. If you enjoy spicy food, this recipe will quickly become a favorite.
Lentil Soup
Lentil soup is an amazingly easy, and filling, soup that you can make for your family to enjoy. In fact, it is so easy to make that you won't really need to do any kind of measuring. Just follow these simple instructions, and you will have a savory soup you will simply love.
Making Less Salty Soups
Just about everyone has run into at least one soup that was a little too salty. Instead of putting up with it, why not learn how to go about making some less salty soup? It's surprisingly easy to do, here's how.
Making Your Own Soup Stock
Making your own soup stock is easy and more flavorful than any that you will find at the store. Here you will find a very easy recipe to making your own tasty soup stock.
Matzo Ball Soup
Matzo ball soup is a great soup dish that combines two traditional items that is served at many a Seder, matzo balls and vegetable soup. Whether you simply love the taste of this great dish and would like to learn how to make it, or you have to bring a dish to your next family get together, you will love this recipe.
North Woods Wild Rice Soup
Winter soups are great on a snowy cold day. This soup is a wonderful addition to your winter soup collection.
Old Fashioned Beef Stew
Are you tired of the same old meals? Do you miss the old fashioned stew that you had as a child? This recipe is just like Grandma's beef stew that you grew up with as a child. The aroma and flavor from this stew is unbelievable.
Storing Homemade Soup
Storing soup can be a little tricky. If not stored properly soup can loose its flavor and texture. Don't let this happen to your homemade soup. Read on for info on storing your soup properly.
Turkey Noodle Soup
Have the chilly evenings got you wanting something that will warm you up inside? Homemade turkey noodle soup will be just the thing for you. It is also a great meal after that big heavy meal you had for the holidays.
What is Roux?
Have you ever watched one of those cooking shows on television, and heard the term roux before? Unless you know what it is, this term can be a little confusing for the beginning cook. What is it, where do you get it, or how can you make it are all some of the common questions that are usually asked. The answer to these questions is here.