Cookware
Before you can cook anything, you need to have the right equipment. The basic tools to get the job done all fall into the category of cookware. Some people prefer to buy cookware sets so that they will have a variety of pieces. This can be a great way to start your collection and then you can easily add additional pans as you need them.
Whether you are looking for ideas on what to buy or if you need some help with the proper cleaning and care of your cookware, you'll find the tips you need here.
Tips, Tricks, and Answers
The following articles are available for the 'Cookware' topic. Click the article''s title (shown in bold) to see the associated article.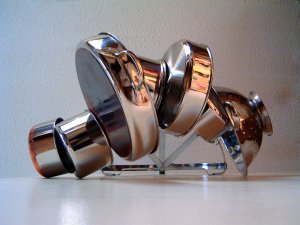 Anodized Cookware
Whether you know it or not, chances are pretty good that if you have ever gone shopping for cookware that you have seen anodized cookware before. The question is what makes this type of cookware so different from others? Keep reading to learn a bit about this kind of cookware.
Baking Sets
While it is great that there are all kinds of baking sets out there to chose from, it can also be a major problem trying to figure out which one to get. Before you go out and choose the most inexpensive one that you can find, simply because it is affordable, it might be a good idea to learn a little bit more about your options.
Caring for Cast Iron Cookware
Whether you are planning on cooking outdoors or in, cast iron cookware can be one of the best ways to go. Long lasting, durable, and if you know what to do it is fairly easy to care for. Make sure that you know the proper way of caring for cast iron cookware so you don't inadvertently ruin it.
Caring for Copper Cookware
Copper cookware can add a wonderful touch of beauty and elegance to just about any kitchen. However, considering how expensive this type of cookware can be, you really need to take care of it to preserve it. Caring for copper cookware isn't difficult, as long as you know what to do.
Caring for Pots and Pans
A great set of pots and pans can help to make a great meal, while a poor set can help lead to a culinary disaster. In addition to this basic fact, cookware like pots and pans cost quite a bit of money. Take care of your investment, and raise the chances of a great meal, by learning to care for pots and pans.
Cast Iron Skillets
Everybody needs a cast iron skillet. Do you know what to do with one when you get it? Find out here.
Ceramic Cookware
Easy to clean and dishwasher safe, ceramic cookware comes in a variety of colors. Many cooks love ceramic cookware because of its porous nature that allows foods to stay hot and moist. An added plus is that you can use it in the microwave as well as your conventional oven.
Choosing the Proper Cake Pan
The type of pan that you choose to use when baking a cake can make all the difference. Here are some guidelines to help you decide which pan is best for the different types of cakes you make.
Choosing Your Pots and Pans
When deciding which pots and pans to get for your kitchen, there are several things to consider. Some of these things include material, number of pieces, and coating. While it can be a little overwhelming for some, these guidelines will help make the whole process easier.
Cleaning Glass Cookware
Glass cookware is quite popular. After all, you basically can't go into a single kitchen across the country and not find at least one item of glass cookware. Cleaning glass cookware can be a bit difficult though, not to mention extremely annoying. That is, until now.
Cleaning Silverstone Cookware
Since many people these days own some form of nonstick cookware, it is important to know how to clean these pots and pans correctly. Silverstone, one kind of nonstick coating, is durable but must be properly cared for to make sure it lasts a long time.
Cooking with Silverstone Cookware
Cooking with nonstick cookware like Silverstone can make preparing meals easier. The surface of these pots and pans allow food to slide off without sticking. What's more, is that the nonstick surface makes the clean up portion of any meal a breeze.
Dealing with Cookware Crises
Can't find the dish you need? Is there food burned on to your favorite pan? Find out how to solve these problems now!
Le Creuset Casseroles
Le Creuset is a brand name for a specific brand of French Cookware and when referred to in a recipe is virtually always referring to a casserole dish that is made of cast iron whose entire surface (both outside and inside the pan) is clad with a porcelain finish.
Saute Pans
Saute pans...what's that? Have you ever wondered what a saute pan is and what makes it special or different when compared to other kinds of cookware? Or even what the proper way to use a saute pan is? If you have ever had these questions, wonder no more. The answer is here.
Silicone Bakeware
Although silicone bakeware seems strange, it is actually easy and fun to cook with. It makes removing food from the pan easy, and it is durable and flexible to ensure many years of use.
Silicone Cookware
Unlike metal bake ware that rusts, and glass cookware that breaks, silicone cookware is lightweight, easy to handle, and will never rust, retain food stains, or break if dropped. In fact, silicone cookware will outlast any metal bake ware in your kitchen.
Tortilla Press
If you love eating and making Mexican food, then there is one piece of equipment that you absolutely need to have: a tortilla press. With this vital piece of equipment you will be able to make your own burritos, tacos, tortilla chips, and so on from scratch. Here's everything that you need to know in order to understand the basics of choosing and caring for this great piece of ethnic cooking equipment.
Using a Pressure Cooker Safely
Pressure cookers can be a wonderful way to cook difficult foods in a quick amount of time, however they can also be a little tricky. Make sure that you know the proper way of using a pressure cooker safely before you start. Otherwise you can end with some rather explosive results.