Wine
Drinking a glass of wine with your meal can add a sense of sophistication. There is much more to wine than just choosing a bottle from the shelf at your local store. If you want to learn more about the different types of wine then you've come to the right place.
This section of tips is all about wine. You'll find information about some of the wine varieties such as Bordeuax, Cabernet Sauvignon, Merlot, and Chardonnay. There are also some tips on buying and storing your wine.
Tips, Tricks, and Answers
The following articles are available for the 'Wine' topic. Click the article''s title (shown in bold) to see the associated article.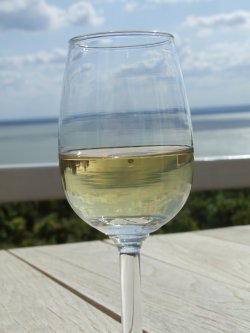 Bordeaux Wine
Some of the most popular—and expensive—wines in the world are those that come form the Bordeaux region of France. Bordeaux wines are prestigious because they come from renowned vineyards that have produced wines for thousands of years.
Burgundy Wine
Are you looking for a fine wine with a good reputation? Wines from the Burgundy region of France are known for their high quality and great flavor.
Buy Wine Online
Many people wish for a convenient way to buy wine. Going online to purchase bottles of wine is one great way to find great selection and low prices.
Cabernet Sauvignon
The grape known as Cabernet Sauvignon is grown all over the world, and is the best known of the red wine grapes. The word sauvignon translates from French to English as wild, and Cabernet Sauvignon grapes were thought to have grown as wild grapes in the Bordeaux region of France centuries ago. Yet there are those who think that Cabernet Sauvignon grapes were purposely crossed of Cabernet Franc and Sauvignon Blanc grapes, to create the Cabernet Sauvignon wine.
California Wine
California is widely known for its wine-making. The state produces hundreds of different kinds of grapes and is home to many wineries in its various wine regions.
Chianti Wine
If you are looking for a great wine to try with your next meal, consider Chianti. This red wine works well with many foods and has great flavor.
Fine Wines
Fine wine is a delicious and luxurious addition to a meal or for a special occasion. Learn to choose the best wine for you or your event.
How to Pair Wine with Meals
Have you ever gone to a particularly fine meal, and found your self blown away by the combination of the wine and the meal? This isn't really some trick that is reserved for sommeliers only. Read on to learn some of the basics of how to pair wine with meals, you'll be surprised at how easy it really is.
Merlot Wine
Wanting to try some red wine but not sure where to start? Try Merlot. It's one of the most popular red wines in the world and has a wide variety of tastes.
Opening Champagne Properly
Opening bottles of champagne properly can be a little difficult, until you learn how to do it properly. In order to begin opening champagne properly, all you really need to do is follow these simple steps, and have a little confidence. It's not as hard as people tend to make it out to be.
Opening Wine Bottles Properly
About the only real problem that wine bottles present is getting them open. If not done correctly, not only is it embarrassing, but it can also make the wine undrinkable. Learn the art of opening wine bottles properly, and never worry about that problem again. Simply follow these instructions.
Picking the Right Wine
Wine is quite a different world and sometimes it's hard to know what you should do regarding wine and your meals. Here is a jump board to get you started on understanding the world of wine.
Pinot Noir Wine
If you are looking for a wine that is fruity and full-bodied, then your best choice is a Pinot Noir. Be prepared to pay a higher price for the stuff, since it is a difficult wine to produce.
Sauvignon Blanc
Sauvignon Blanc is a very friendly wine with a range of flavors. It can be paired with a number of foods and especially tastes good with cheeses and fish. It doesn't take well to aging, so make sure to drink it quick!
Storing Wine
Like many things in the culinary world, the way that you store your wine can greatly affect its overall taste. If you like save your favorite vintages for those truly special occasions, like to collect wines as others may collect baseball cards, or simply want to appear a little more sophisticated to your guests, then you need to learn how to properly store your wine.
What is Chardonnay Wine?
Looking for the perfect white wine to go with that special dinner? Use chardonnay. It's not called "the world's favorite white wine" for nothing.
Wine and Corked Beverages
Why should corked drinks be stored on their side? And what do you do if the cork falls inside the bottle?
Wine Auctions
Wine auctions can be the premier location to find great wines at a relatively inexpensive price. However, if you don't know and understand the basics then a wine auction can be a confusing (not to mention costly) experience. So before you head off to the local wine auction, here is some information that you absolutely must read.
Wine Cellars
Many casual wine drinkers keep their bottles on a rack or a shelf in the cabinet. For those with more wine bottles to store, a wine room or wine cellar is exactly what they need.
Wine Gifts
Wine can be a great gift to give to someone on a special occasion. You might also give accessories and other items related to wine that could be very useful to the recipient and thoughtful on your part.
Wine Labels
Understanding wine labels can be a somewhat tricky proposition for those who don't spend a whole lot of time around wine. If you want to learn how to understand wine labels, for whatever reason, then you need the information contained here. Whether you want to impress your significant other then next time you go out on a hot date or you don't want to look like a country bumpkin the next time you get together with friends and family, the key lies in understanding wine labels.
Wine Set
Have you ever needed to open a bottle of wine only to find that you didn't have a corkscrew or foil cutter? Be prepared with a wine set that can help you open and serve wine.
Wine Storage
Wanting to be a wine buff but not sure where or how to store it all? Storing wine can be simple. By following a few rules, you'll be able to pull out wine that has aged and tastes great.
Zinfandel Wine
Most wine enthusiasts think of Zinfandel as either an appetizer wine, or a wine to compliment a main course. Yet Zinfandel is truly a dessert wine, pairing well with sweet, heavy, rich desserts. Consider pairing your next bottle of Zinfandel with dessert, instead of with your dinner.