Easter
The Easter holiday is a great way to welcome spring and warmer weather. A major component of this celebration is the traditional East Sunday dinner. A time to get together with family and friends, your holiday gathering can be an easy, fun-filled event with or without the decorated eggs.
In this section of tips, you'll find a great recipe for your Easter dinner ham and some ideas for planning the dinner.
Tips, Tricks, and Answers
The following articles are available for the 'Easter' topic. Click the article''s title (shown in bold) to see the associated article.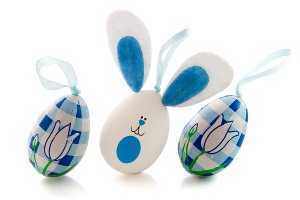 Delicious Easter Ham
You needn't spend a lot of money for a precooked ham for your Easter dinner. Follow these great tips for choosing and cooking a ham, with a traditional sweet glaze, and your guests will be amazed that you cooked it yourself.
Planning an Easter Feast
The key to planning an Easter feast is to determine what foods your guests will enjoy, before you decide upon a menu. Make a list of everything you want to serve, and whether you'll have a sit-down dinner or a buffet, and then decide how to arrange everything upon your table, and make sure that you have enough serving dishes for everything!