Casseroles
Take your choice of meat, chop up some vegetables, and add some potatoes, pasta, or bread, and you have a casserole. These delicious dishes are easy and use less dishes, which means you'll spend less time in the kitchen before and after the meal.
There are many different types of casseroles. Some use only vegetables, some add meat, and some are primarily made from pasts. Whatever you are craving there is a casserole that will satisfy you. This section of tips includes recipes for chicken casseroles and a hash brown casserole.
Tips, Tricks, and Answers
The following articles are available for the 'Casseroles' topic. Click the article''s title (shown in bold) to see the associated article.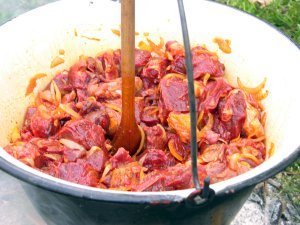 Broccoli Ham Ring
A broccoli ham ring is great way to use holiday leftovers in a unique and tasty dish. It is a nice alternative to a casserole.
Cheesy Potato Casserole
If you are looking for a really tasty and easy to make side dish that can go with just about any main dish, then you really can't go wrong with this wonderful cheesy potato casserole. Not only is it easy to make, it tastes so good that your family may just be asking you to add it as the main dish in your next meal.
Chicken Noodle Casserole with Glazed Carrots
This dinner menu is well balanced since it contains meat, starch, and plenty of vegetables. You could easily adjust the casserole recipe and make it in a slow cooker or crock pot, allowing it to cook on low for a few hours, adding the cooked noodles during the last 20 minutes of cook time.
Easy Chicken and Broccoli Casserole
Want a great main dish for your next family meal? Try mixing chicken and broccoli in an easy-to-bake casserole. You'll find the great-tasting recipe here.
Easy Chicken and Rice Casserole
Chicken casserole can be a staple in any cook's kitchen. It is a great way to make a nourishing meal when time is short or the crowd is large. This recipe is for a great chicken and rice casserole.
Easy Chicken Casserole
Chicken casserole is one of those staple family recipes. Because of its applicability in many social situations, you want to have the best and easiest recipes.
Hash Brown Potato Casserole
Hash brown potato casserole (sometimes called funeral potatoes) is a great crowd pleaser. It is a lot more fun to serve than regular potatoes. Your guests will think you were in the kitchen all day.
Turkey Casserole
You need a fast meal with a lot of taste. You have a lot of leftovers and would like to use them up instead of throwing them out. This is a great recipe that uses a lot of the leftovers without having the leftover blues.