Pies
Homemade pies are a crowd-pleaser and don't have to be hard to make. These desserts are a tasty treat when served alone or with a topping like whipped cream or vanilla ice cream.
You have a number of ways to make your pies, but the first step is making the crust. Pie crust can be bought at the store, or you can make it yourself. For the true homemade pie, you'll find a tip here about how to make a quick and easy pie crust. There are also some recipes and tips to make your pies a hit.
Tips, Tricks, and Answers
The following articles are available for the 'Pies' topic. Click the article''s title (shown in bold) to see the associated article.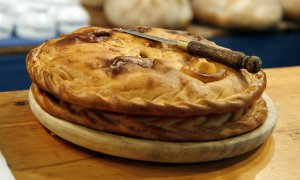 Baking Filled Pies
Looking for ways to garnish a boring pie? Want to bake pies with less clean-up? Learn some new tricks for baking filled pies!
Fresh Cherry Pie
One of the most beloved of all pies is probably cherry pie. If you want a cherry pie, and are interested in saving some money, why not make your own? All you need to do is follow this easy to understand fresh cherry pie recipe.
From-Scratch Pumpkin Pies
What is it about pumpkin pies that so many people love? Is it the fact that they seem inexorably linked to the fall and winter holidays that make everyone think of home? Maybe it's their wonderful flavor and taste? Whatever the reason pumpkin pies are loved the world over, and none more than from-scratch pumpkin pies.
Homemade Pumpkin Pie
One of the true wonders of the holiday season has got to be fresh baked, homemade pumpkin pie. For many people the scent of this holiday favorite can bring back and evoke the memories of yesteryear. Here is a fantastic recipe that you can use, which will allow you to share your love of pumpkin pie all year long.
Making Pie Crusts
Making awesome, flaky pie crusts can be quick and easy. You can have professional results without special tools or training. You just need a few tips to point you in the right direction.
Making the Perfect Meringue
When done properly meringue can add just the right touch to just about any pie. The trick though lies in making the perfect meringue. Surprisingly, it's not as difficult as you would first believe—particularly if you follow the directions in this fantastic recipe.
Old-Fashioned Apple Pie
This recipe for an old-fashioned apple pie is very simple to make, especially with the easy step-by-step instructions in this tip. This recipe has been handed down for generations.
Pecan Pies
If you ask any group of people what there favorite type of pie is, there is a very good chance that at least one person will mention pecan pies. Making your own pecan pies isn't really all that difficult, particularly if you follow this simple recipe.
Rhubarb Pie
Rhubarb pie is one of those unique pies that can either make you or brake you as a baker. The trick in making this as fantastic as possible lies in following rhubarb pie recipe that not only makes a great tasting treat, but is also easy to understand. Wouldn't you know it, but this recipe fits both of those criteria perfectly.
Strawberry Rhubarb Pie
Want to make a great tasting pie that almost everyone will enjoy, but is not your usual fruit pie? Then try a fresh warm strawberry rhubarb pie topped with vanilla ice cream. It's easy to bake, and your taste buds will thank you.