Cakes
Displaying a beautiful, delicious cake can make an ordinary gathering seem special. Often, birthday cake, wedding cake, and other varieties are served for celebrations. You don't have to reserve the traditionally special cakes for those special occasions. It's easy to make a cake that will have everyone coming back for more.
The tips in this section include recipes for a variety of cakes including carrot cake, old-fashioned banana cake, and red velvet cake. You'll also find tips about storing, cutting, and decorating your delicious dessert, making it perfect for any event.
Tips, Tricks, and Answers
The following articles are available for the 'Cakes' topic. Click the article''s title (shown in bold) to see the associated article.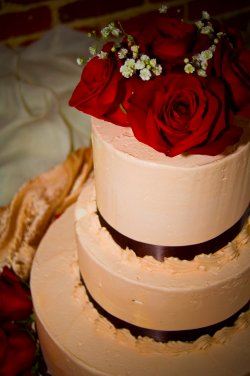 Baking Cakes
How can you really tell if your cake is done when the timer goes off? And what do you do if it won't come out of the pan? Use these tips when you're baking a cake.
Beautiful Banana Cream Cheesecake
Ah, banana cream pies and cheesecake. Just the thought of these makes my mouth water. Here is an interesting recipe where you can add the two of the together.
Butter and Pound Cakes Explained
Confused about butter cakes and pound cakes? Could there really be a difference? Read on to learn more.
Carrot Cake Recipe
Carrot cake is without a doubt one of the most popular types of cakes out there. But since this is one of the most popular types of cakes available, it only stands to reason that they can be fairly expensive. Save some money and impress others with your cooking skill by using this great recipe.
Creating an Ice Cream Cake
Ice cream cakes are a wonderful treat, and a great combination of birthday classics. However, if you are going to buy one, they can also be somewhat expensive. Here is a simple way of creating an ice cream cake of your own for a fraction of the cost.
Decorate, Cut, and Store Your Cakes
Your cakes: Decorate them quickly. Cut them cleanly. Store them efficiently.
Fantastic Red Velvet Cake
Cakes are one of the most traditional desserts around in the United States, and as such just about everyone has their own favorite. One of the more favored of all cakes is red velvet. Here is a simple, though wonderful, red velvet cake recipe that you and your family will simply love.
Frosting a Cake
Frosting a cake presents a unique quandary in cooking. It is both one of the easies things, and one of the most difficult things that you can do. When trying to get your frosting to look good, you will find that the answer is almost too simple to believe. If you follow this simple method though, you will never have a problem when frosting a cake.
Heart-Shaped Cakes
Make a heart-shaped cake without a heart tin. Decorate hearts to fit all sorts of party themes.
Making Tiramisu
If you have ever been to an Italian restaurant, then chances are you have had tiramisu at least once. In fact, tiramisu is arguably the most famous and favored of all Italian cakes. Making your own tiramisu is surprisingly easy, and can be a great addition to your next meal.
Old Fashioned Banana Cake
There are several cakes out there for you to make; however, those cakes can sometimes get kind of old. Here is a great recipe that will give your cake repertoire variety and add to the quality of your cakes.
Preparing to Bake a Cake
The cake ingredients are ready. Your mouth is already starting to water. But don't miss these tips before you bake your next cake.
Pumpkin Cheesecake
Pumpkin cheesecake can be an interesting alternative to a traditional pumpkin pie. It is easy to make and is a crowd favorite.
Red Velvet Cake
Red Velvet cake is a wonderful, moist, and almost sinfully tasty treat that you can enjoy any time. At least, you can if you know how to make it. The next time you are in the mood for a decadent treat, use this recipe. You'll be glad you did.
Scrumptiously Delicious Lazy Daisy Cake
If you are going on a picnic, this is the cake for you to make. This cake is delicious and will be one that you definitely want to make time and time again.
Yummy Coffee Cake
Coffee cake is one of those cakes that you will want to be able to make whenever you want. Here is a great recipe that you will want to make again.