Oriental
The Orient may be on the other side of the world but enjoying the variety of dishes and flavors from the region can take place right in your kitchen. The people of China believe that cooking is an art and their dishes are certainly evidence of this. The philosophies of Confucianism and Taoism have influenced both the preparation and eating of Chinese food.
In this section of tips, you'll find recipes for some of the more popular Chinese dishes. From stir fry to sweet and sour pork, you'll be on your way to creating delicious Chinese dishes in your own kitchen.
Tips, Tricks, and Answers
The following articles are available for the 'Oriental' topic. Click the article''s title (shown in bold) to see the associated article.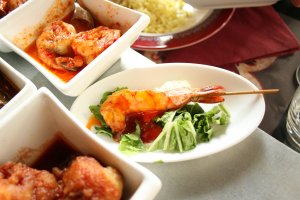 Delicious Ham-Fried Rice
If you are thinking about having Chinese for dinner some night, you may want to think about making some delicious ham-fried rice. It's not particularly difficult to make, at least as long as you follow this recipe.
Egg Drop Soup
Egg drop soup is perhaps one of the most beloved of all the Chinese style soups around. This long time favorite is also particularly easy to make. All you need to do is follow this simple recipe.
Making Your Own Sweet and Sour Sauce
Sweet and sour sauce is a vital ingredient in many Chinese dishes. Whether you want it for dipping your egg or spring rolls, or even sweet and sour pork, you will need this sauce. Luckily it's not all that difficult to make, and here are two different methods you can use.
Savory Chicken Oriental Salad
Chicken salad is an abiding favorite of many. Here is a wonderfully different way of preparing and serving your chicken salads. This is a perfect recipe for when you are in the mood for oriental, or when you are looking for an easy meal to serve at a party.
Simplify Stir-Fry
Stir-fry is fast and easy. Use these tips to help you make this favorite even easier.
Succulent Sweet and Sour Pork
Sweet and sour pork is a one of the great Chinese dishes. Here is how you can make it yourself, and impress others at the same time.